Similar website is web analytics software, gives companies and website owners information on the traffic to and effectiveness of their websites online. We'll go through how to use SimilarWeb and the analytics it offers in this article.
Step 1: Sign up for SimilarWeb:
You must register for an account if you want to utilise SimilarWeb. You have the option of creating a free account with less features or a premium account with more in-depth information.
Enter your website URL into the search field on the SimilarWeb homepage after creating an account. Then, SimilarWeb will start examining your website and giving you information about its traffic.
Step 3: View website traffic and engagement metrics:
Different website traffic and interaction metrics are available from SimilarWeb, such as:
Total visits: How many people have visited your website overall.
the total number of visits to a page on your website.
The typical length of time visitors spend on your website is known as the average visit duration.
The proportion of visitors to your website that depart after just reading one page is known as the "bounce rate."
Traffic sources: The avenues via which people visit your website, including referrals, social media, and organic search results.
Top pages: The online pages on your site that are most frequently visited.
Audience demographics: The characteristics of the people that visit your website, such as their age, gender, and geography.
Step 4: Analyze competitor websites:
You may evaluate the effectiveness of your rivals' websites using SimilarWeb as well. You may learn more about the competitor's website traffic and engagement stats by entering the competitor's URL into the search field on SimilarWeb.
Step 5: Create custom reports:
Based on the information you've acquired, SimilarWeb gives you the option to make personalised reports. These reports may be exported and sent to your group or interested parties.
Step 6: Monitor your website over time:
You may use SimilarWeb to track the traffic and engagement data for your website over time. You may see patterns and make data-driven decisions to enhance the performance of your website by monitoring these indicators.
Businesses and website owners may gain insights into their website traffic and online performance with SimilarWeb, a potent web analytics software. You may enhance your website and expand your business by using these procedures and the data offered by SimilarWeb to guide your analysis.
Similarweb Data: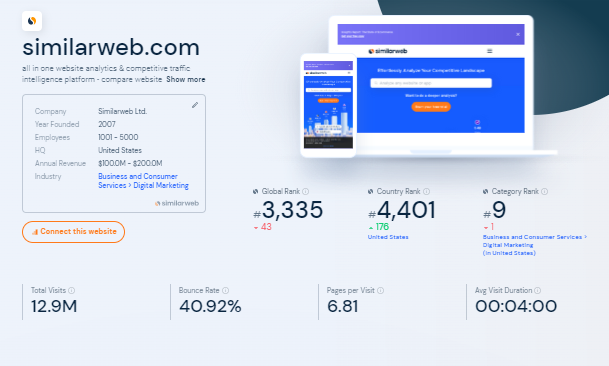 Ranking:
Traffic and Engagement Analysis:
Geography & Country Targeting:
Audience Demographics:
Audience Interests:
Similar Sites & Competitors:
Social Media Traffic: